<![if !vml]>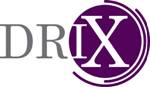 <![endif]>Company information
History
Drix was founded in 1989 as a development company of specialized electronics.
In the period of 1995-1998, the company transformed into a manufacturer of semiconductors, thin film coatings and optical products.
Drix owns its own waferfab with cleanroom facilities for processing 100mm silicon wafers located in Lint, Belgium.
Today Drix offers both semiconductor processing services and optical products.
Milestones and timeline
1990: started operation in Mortsel, Belgium. First product: CPU board based on the Motorola 68k series.
1995: groundbreaking for the construction of the waferfab and 1st cleanroom in Lint, Belgium
1997: first thin film coatings on glass for use as black/white coatings.
1998: invention of the matted coating for cancelling reflections
1998: construction of the 2nd cleanroom
1999: production of bipolar power devices
2002: production of mask blanks
2006: production of reverse black coatings
2007: production of dichroic colour coatings on thin glass
2015: production of coatings with very high reflection and high energy thresholds.
2017: new facilities for volume glass cutting and grinding
2020: invention of a coating aimed at maintaining temperature stability on LED projectors
Facilities
Cleanrooms: Class 1000 in the alleys, class 10 in the processing area
400 square meters of combined cleanroom area
300 square meters of glass cutting and grinding area
Our Values
Integrity – we are fair and we do what we promise.
Persistence – we never quit finding a solution: we see problems as challenges.
Competence – we are good at what we do in our domain.
Make progress which lasts – so everyone involved gets better.
What we do
Drix develops its own manufacturing processes, and many times also its own production equipment.
This allows us to develop products for niche markets.
We control the production process from raw materials to finished product.
We invest a large effort in development of new products and technologies.
Our products are manufactured in Belgium.
Who we are
We are a very dynamic team (one day more dynamic than the other) of 22 people.